A Valentine Gift Guide
Just when you thought gift-giving season was over, in rolls Valentine's day! There's always a reason to show the people we love that we care about them, and I use every opportunity I have to show my family and friends that I appreciate them. I send thoughtful messages and follow up on things that are happening in their lives, and if I'm being totally honest, I smother them in gifts because I love buying presents!
It's really such a special day, I don't care if Hallmark invented it to generate business (lol!). They could've created a way worse holiday, so I'm happy it's love they chose to celebrate. My husband and I try our very best all year round to hang out and spend quality time together, but nothing compares to a special Valentine's plan. It's one of the only times of the year (and his birthday I guess) when I spend an obscene amount of time trying to think about how I can show him how I feel about him. With a gift, a nice card, and a yummy dinner reservation (and stay-cation if we can swing it!), I show my husband that I love him to the moon. I also show him how special he makes me feel by reciprocating the best way I know how ;)
For those of you who know me well enough by now, I love beauty and skincare products. When I have me time, which isn't often, I like to spend it taking care of myself and simulating a spa experience. So, it's no wonder I think that skincare goodies are the best gift for that special lady in your life… or at least, the best gift I plan to give myself this Valentine's day. Legit, after packing up my home, unpacking my home, travelling a ton, and finally settling back at home, I'm in serious need of a spa day.
So, here is a rundown of my ultimate gift guide for Valentine's day. If you are treating yourself this year, the treat yourself right, starting with your skin!
A Coconut Milk Bath Soak that smells like the beach. When I pour a touch of this into a warm bath, I'm immediately transported to vacation mode. I felt relaxed and calm and as if that weren't enough, I'm also hydrating my skin while I soak.
Sounds magical right? That's because it is. The Prism Exfoliating Glow Potion delivers on its promise – hydrating the skin with a super lightweight serum, smooths and clarifies the skin. Naturally derived from fruit acids, I use this to clear out any blemishes I get or uneven skin tones. Vegan, cruelty-free, no synthetic ingredients or added preservatives. When I discovered Herbivore, I became obsessed with their entire line.
[Herbivore is available at Le Manoir in Montreal and in their online store.]
Cuticle treatment that looks chic. I have to admit that I am a manicure addict so I rarely do my own nail treatments, but when I found the ncLA So Rich (I have the peach vanilla scent), they just made it look so simple. I started on cuticle treatments to revitalize and hydrate my dry skin around my nails (especially in this crazy cold weather) and I've seen amazing results. It's easy to take good care of yourself when you have great products. This is a great one – I'd gift this one with a pretty nail colour or manicure gift certificate.
By applying this Hyaluronic Acid to the skin before I apply my cream I temporarily hydrate my skin on the surface but offer my skin multi-levels of hydration from the inside out. The Ordinary has such amazing scientific solutions in every HA they make, but I have tried this one and can stand by the results. It has visibly plumped up the areas I've applied it to… kind of awesome.
[ncLA and The Ordinary are available at Le Manoir in Montreal and in their online store.]
I think Indie Lee is such an amazing gift for anyone woman of any age because their Brightening Cleanser also acts as a makeup remover, a mask to illuminate, strengthen, and firm the skin. It is rich in antioxidants and is super gentle on the skin. Indie Lee has an entire line of Leaping Bunny Certified, cruelty-free and vegan products. I have tried so many of them and use it as a part of my nighttime regimen.
Mai-Light uses the maitake mushroom. Yes, mushroom. Known for retaining moisture and 20% more effective than HA serums, the Mai-Light products are intense! I use the Everything's coming up rosé highlighter stick for a little on-the-go glow.
Ok, so by now you know I love a good bath, and these bath salts are next levels. I love the eucalyptus peppermint scented bath soak Crush by Bathorium. First of all, the package is adorable, and matches my bathroom, but second, and most important, eucalyptus is an essential oil that is known for its powerful healing properties. Soaking in these salts is like getting a deep tissue massage. Yes please!
[Indie Lee, Mai-Light, and Bathorium are all available at Le Brow Bar in Montreal or at their online store]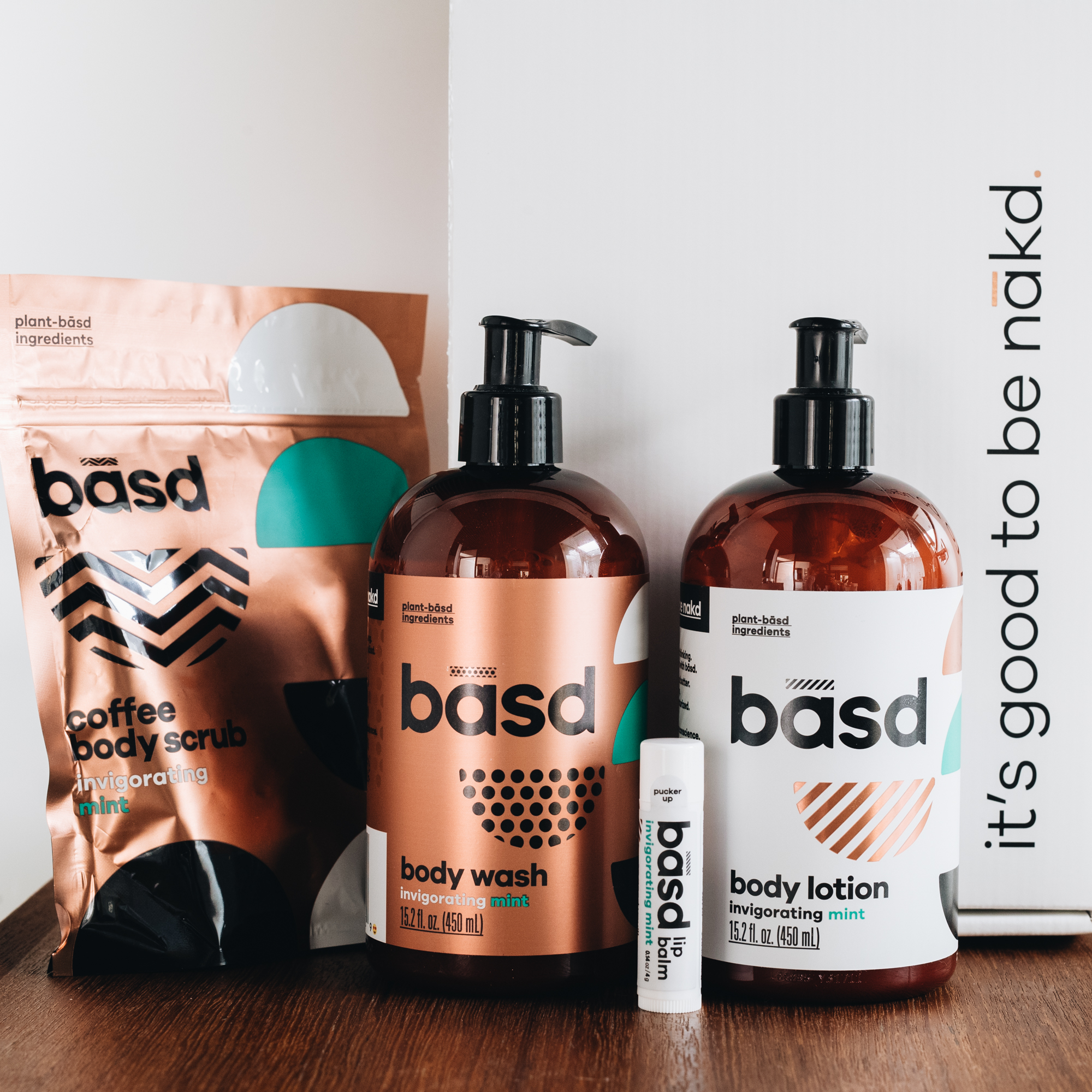 Ever had a mud bath? The Basd Invigorating Mint Coffee Scrub is kind of like spending the day in a mud bath, a full day of spa treatments. Coffee-based and full of natural oils, this scrub helps with microcirculation (helping with acne, cellulite, and stretch marks), and exfoliates dead skin away to reduce puffiness. Did I mention it leaves your skin hydrated? If I had to pick one scrub, it would be this one.
I have a whole bunch of different creams that I keep strategically placed around the house, in each bathroom, in my purses, at the office, and this is one of my all-time favourites. Formulated to nourish your skin, the Basd Invigorating Mint Body Lotion firms your skin, targets imperfections, and reduces puffiness. Made from organic plant-based products, I use this lotion every day for maximum results.
[Basd is available at Le Brow Bar in Montreal or at their online store]
Valentine's day is about spreading the love and there is no better way to spread the love than taking care of yourself. So whether you're buying a gift for a loved one or for yourself, think of your skin, your health, and your relaxation. Give yourself the gift of an at-home spa day!
Photography by Patricia Brochu